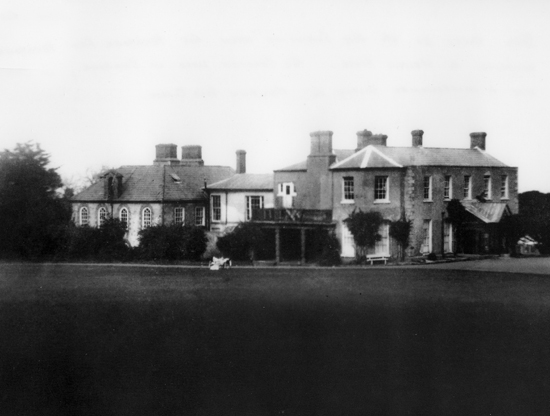 THE LODGE IN THE EARLY 1900'S
Sir Nevile and his family occupied Mount Merrion House for at least ten years until World War I. A special mention will have to be made of the agents of the Fitzwilliam and Pembroke families who worked tirelessly for many years. They were Mr. Cornelius Sullivan, Mr. Edward Vernon, his son Fane and grandson, Henry.
Correspondences (below) by Lord and Lady Pembroke in London and the agents in Mount Merrion provided great insight into the times...
February 3,1914
A letter was sent to Fane Vernon, the Irish estate agent, from Lady Beatrix Pembroke, Stratton Hall, Leicester saying he was to pay the extra 10 shillings per week to George Thornton a worker on the farm to make up the shortfall in his wages, at that time, £1 and 7 shillings per week. Thornton had been ill for some weeks and the agent made the point that as a rule it was not advisable to make up the full difference between wage and insurance money as it afforded some temptation in the direction of malingering but for this once it does not matter.
July 2,1914
Twenty tons of coal were ordered at 21 shillings per ton for Mount Merrion
October 5,1914
A letter was sent to Lady Pembroke saying "the Vartry water mains had burst and knocked down 100ft. of wall near St. Thomas's Church and will cost £100 to replace which will be hard to recoup."
November 9,1914
The Dowager, Countess of Pembroke was named as owner and tenant for life of the lands of Mount Merrion with the area now standing at 299 acres, 2 roods and 28 perches.
December 19,1914
George Thornton rebuilt the wall and the money retrieved by selling trees to the value of £56 and 10 shillings. The trees were replaced with saplings surrounded by cages to prevent the cattle from damaging them.
February 1915
A certificate was required from the doctor to say George Thornton was not fit for work as he was suffering from bronchitis.
November 19,1915
A letter was received by Nora Hallisey stating that "new arrangements were being made in Mount Merrion House and her services as housemaid would not be required after December 19, 1915." The same letter was sent to the other servant, Nora Ryan on the same date.
December 1,1915
from Fane Vernon saying "he could not give any opinion as to the question of offering to release her life's interest in Mount Merrion. Shortly the housemaids will be leaving and Mrs. Crawford the supervisor will cost very little expense. George Thornton is still on the sick list and although his wages are high, he still does many jobs which would otherwise be carried out by a tradesman, that bane of society." Fane Vernon continued "you still have nine men besides Hugh Crawford who lives in the Chief Stewards Lodge, Mount Merrion Gardens."
December 11,1915
There was a letter from a Judge John Ross looking for a permit to go through Mount Merrion Estate to get to Dundrum from Oatlands.
January 1,1916
Between 7.00 pm and 8.00 pm a Johnston Mooney & O'Brien van ran into some granite stones which were a portion of the wall of the Mount Merrion Estate The van turned over and a young man called Walsh was pinned underneath. He was brought to the hospital suffering from bruises and was later discharged. The driver of the van, Christopher McGuinness later lodged a claim which was settled for £10 including £2 he said he had dropped out of his pocket.
February 18,1916
Fane Vernon sent a letter to Lady Pembroke saying "that it had been arranged to surrender Mount Merrion to Lord Pembroke and that he proposed to make a date for closing of the account on the 31st of March 1916."
March 20,1916
There was a letter from Beatrix Wilkinson with an address of 6 Duchess Street, Portland Place to say her mother was not well and worried over Mount Merrion House and Estate and said there was a large dolls house belonging to Guendolen and a pony cart belonging to Beatrix Wilkinson still there.
June 13,1916
There was a letter from Fane Vernon saying "the pony and trap were sold by auction for fifty pounds and eight shillings. The harness was not sold as it belonged to Lady Beatrix. Four tons of coal were taken over by a Mrs. Kirk at the current price who was also very pleased with everything in the house."
September 11,1918
Adams & Sons, Auctioneers, Merrion Road,Dublin had a client willing to purchase the Fee Simple of Mount Merrion and premises comprising of 298 statute acres for £28,500.
October 12,1918
There was a letter sent to Lady Pembroke from Fane Vernon saying "the intending purchaser of Mount Merrion had paid a deposit of £7,125 and the house was to be handed over by the 1st of January 1919."
November 12,1918
A letter was sent to Lord Pembroke saying "that T.L. Moore Esq., the Secretary of the Ward Union Hunt, Ashtown House, Castleknock was asked to send some men to assist in catching two does and a buck deer which were to be sent to Wilton House, England.